Project for a book of drawings and poems, 14.5 x 21 cm, 170 pages. Collaboration with Thierry Bodson. 2018-22.
Des Champs des puits is born from the interaction between my Minimal drawings project and the poetry of Thierry Bodson. At the heart of this encounter is the word and its ability to pierce into the soul as well as to entail matter. The Minimal drawings record the echoes of the near and far world, serious and light. Using mixed media techniques, they are made on small cards on which notes are taken; up to date Minimal drawings is composed by more than a thousand drawings.
Thierry Bodson has laid down words regarding thirty of them. His texts were in turn taken into new graphics works. The dialogue between my drawings and his poetry have engendered constellations of drawings-poems which alter through successive translations and transformations.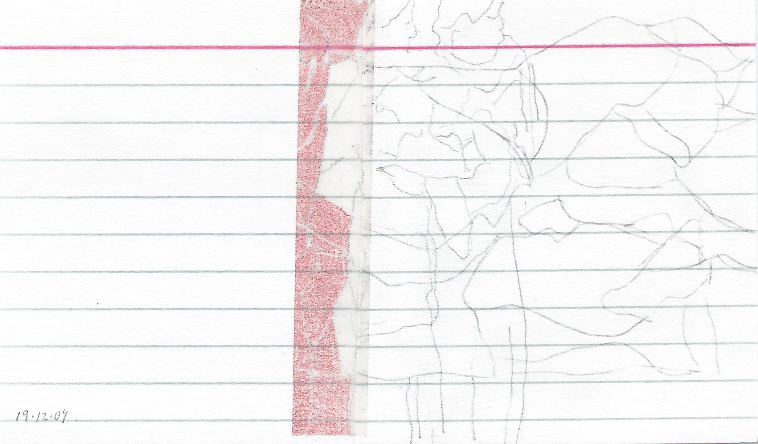 Minimal drawing, mixed media, 2004.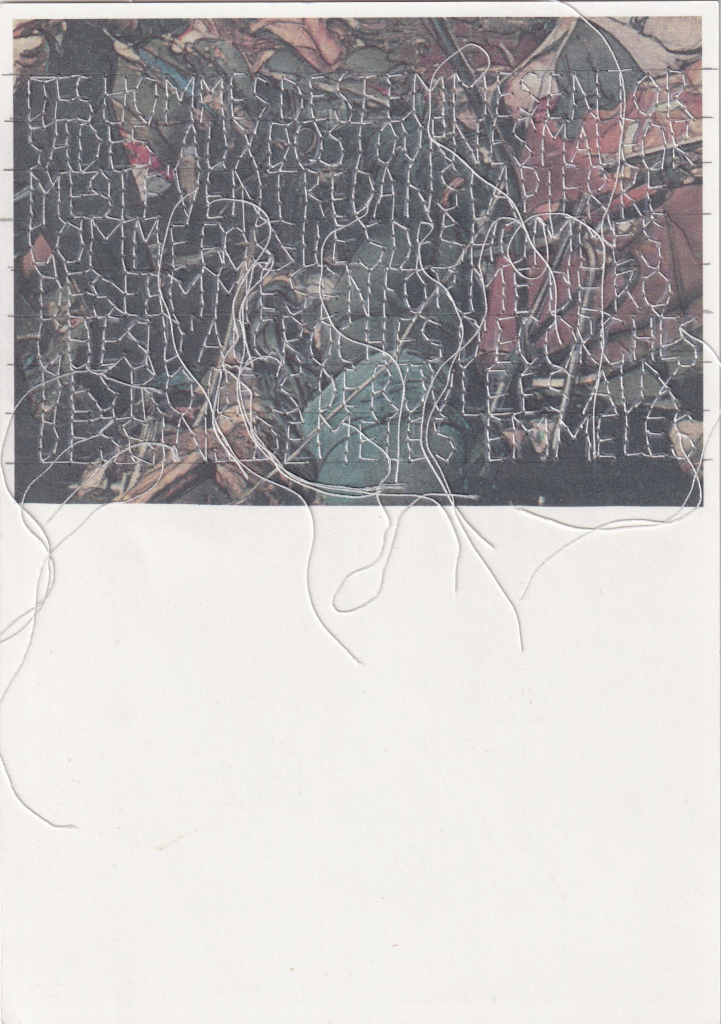 Des hommes des femmes, embroidery on printed paper, 14.5 x 21 cm, 2019. Poem.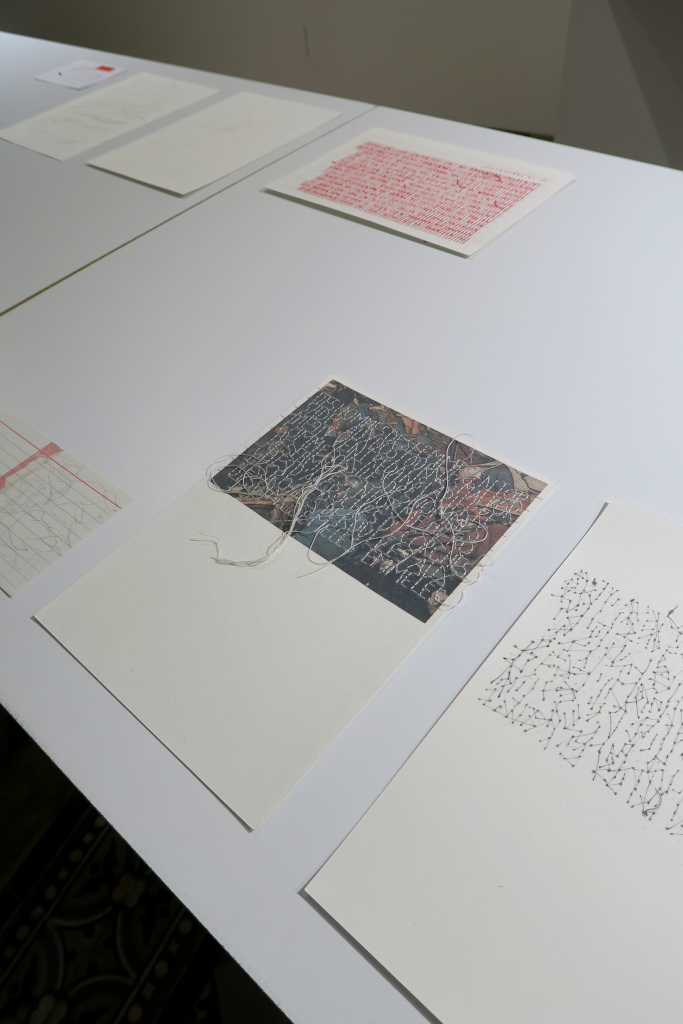 Exhibition's view, ODRADEK gallery, november 2023, Bruxelles. 
GOEN, Erica Naito and Natalia Blanch, Museum Genaro Pérez, Córdoba, Argentina, 2013.
The project, arisen from an epistolary relation of two years between Erica Naito (Córdoba, Argentina) and Natalia Blanch (Brussels, Belgium), is based on the exchange of drawings, paintings, photographs and weavings. The communication between the works and their mutual influences were at the centre of this approach.
Curator: Claudia Aguilera.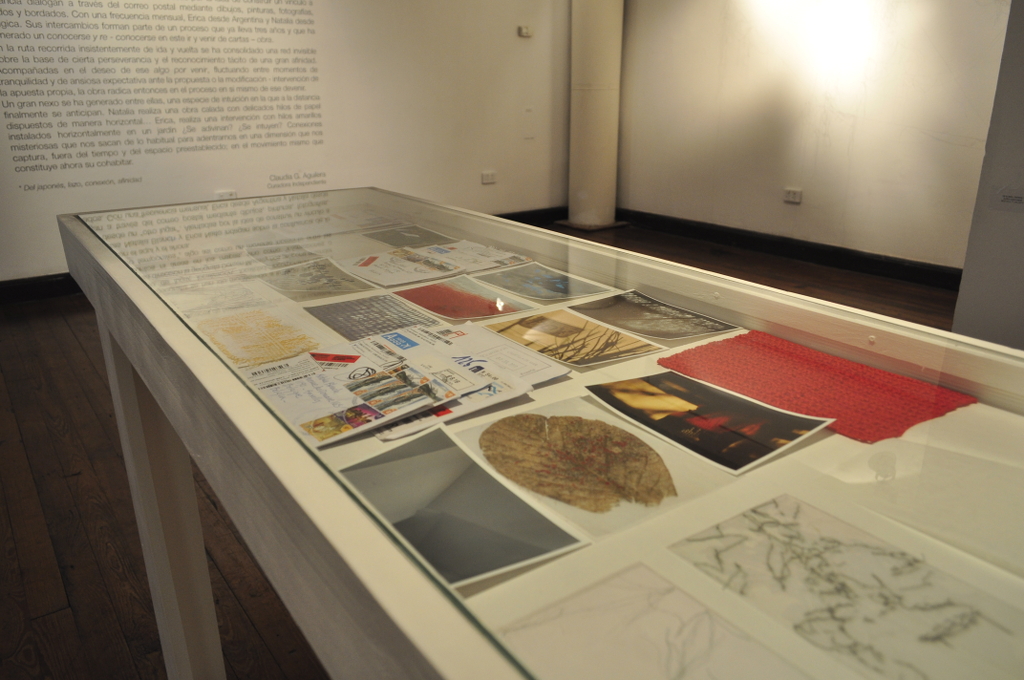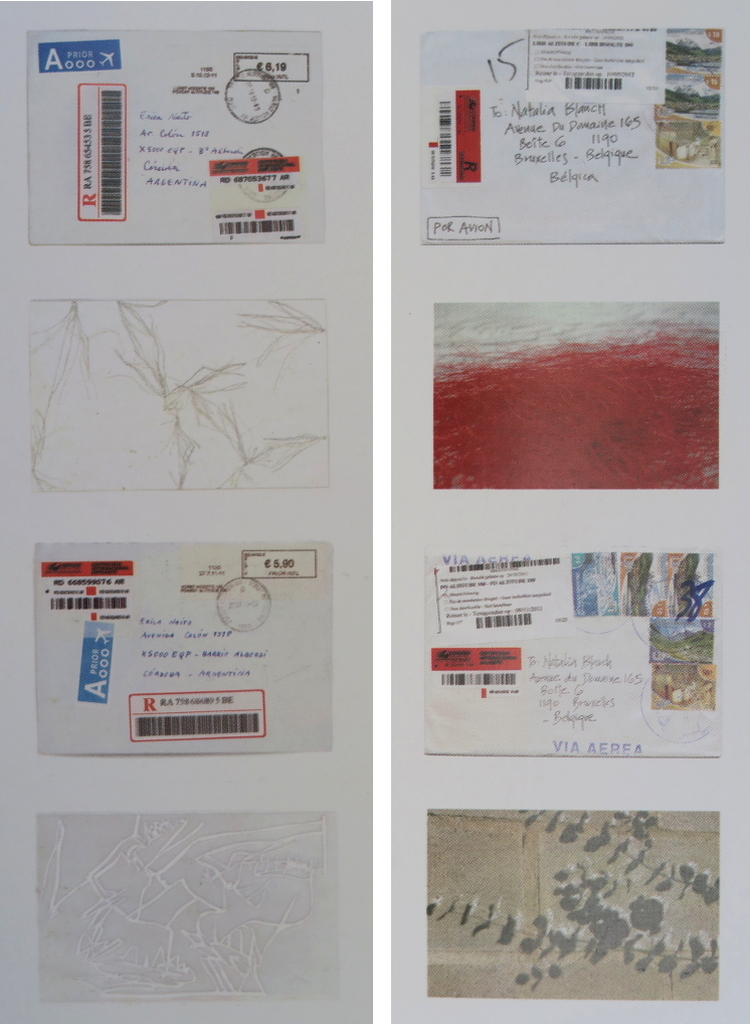 PDF text Gabriel Gutnisky in spanish
PDF text Christophe Depaus in french
Stanche Mani and Réparation, 2019

Which kind of reflection can an artist bring on stage about the current social and political environment?
Stanche Mani is a feminist piece about this artistic engagement. Lisa Da Boit dances upon the ashes of Ferocia, her last enraged solo. She now shares the stage with Sophie de Beer that replaces Farah Chammah. They search together, with the complicity of Natalia Blanch as a witness of silence and persistence, for another sense of this broken world, deep in sorrow. Stanche Mani is a poem that keeps together the contradictions of reality, while offering a ray of hope, a light at the edge of darkness.
Teaser Stanche Mani: https://vimeo.com/381648327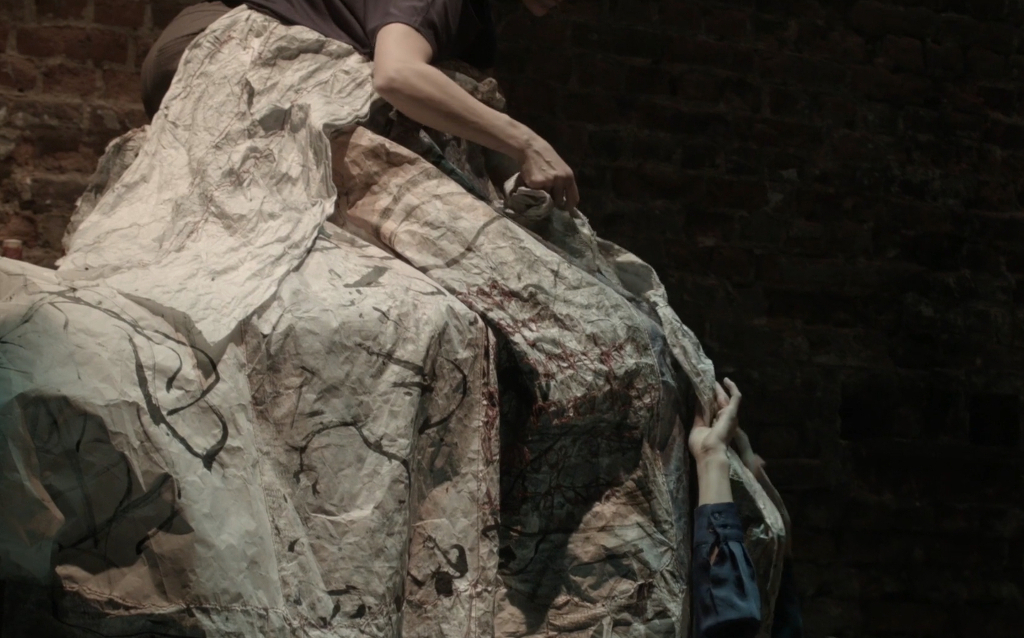 Concept & choreography: Lisa Da Boit / Text and voice: Sophie de Beer / Interpretation:  Lisa Da Boit and Sophie de Beer / Visual universe: Natalia Blanch / Live music: Sofiane Remadna / Lights: Yoris Van den Houte / Direction assistant: Rudi Galindo / Promotion: Frank Barat, Anne Golaz. A creation of Giolisu, in coproduction with Théâtre de la Vie. With the support of Théâtre Marni, Grand Studio, la Roseraie, Centre Garcia Lorca & Espace Magh. PREMIERE - 12 > 16.11.2019 at 20:00 - Théâtre de la Vie, Brussels
Réparation 
Réparation is a sewn drawing I made for the performance Stanche Mani (a creation of the Giolisu danse company).The energy and fluidity of the dance movement was captured in India ink on rolls of rice paper. The dancer damaged and torn the paper. They had to be repaired, stitched up, to create an "open" structure, constantly patched up.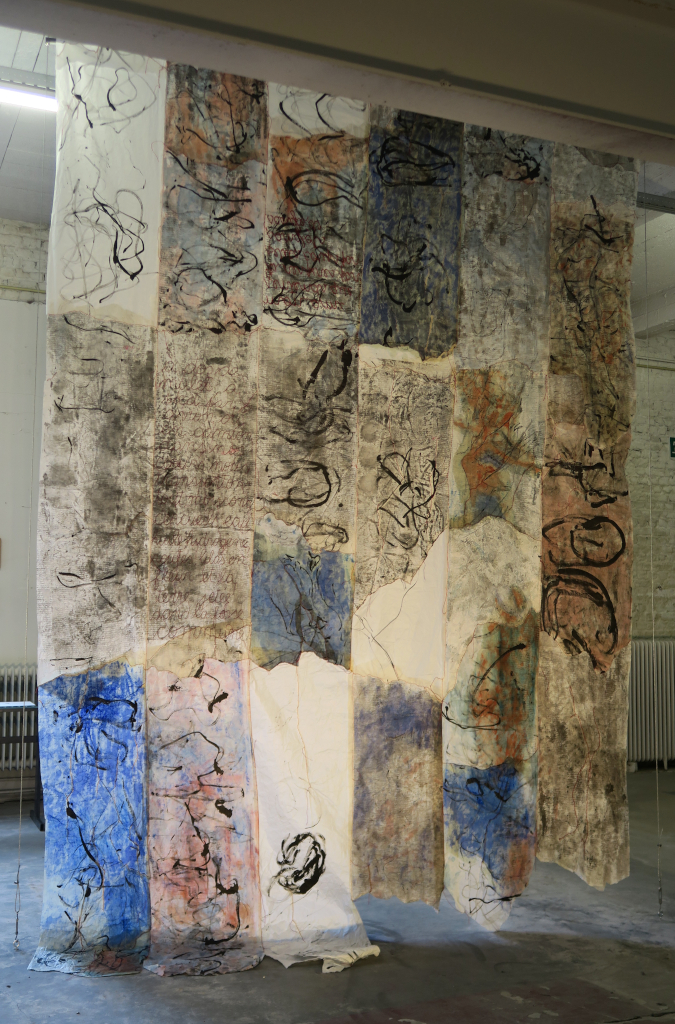 Réparation, Indian ink and oil painting on rice paper, hand sewn, 350 x 300 cm, 2019.
View of the installation at Firm Artlab, 2022.